TRYOUTS THROUGHOUT NOVEMBER – ALL AGES
CLICK HERE TO REGISTER FOR TRYOUTS
DETAILS:
Sunday Oct. 20 & 27   Youth Tryout (Ages 9-13)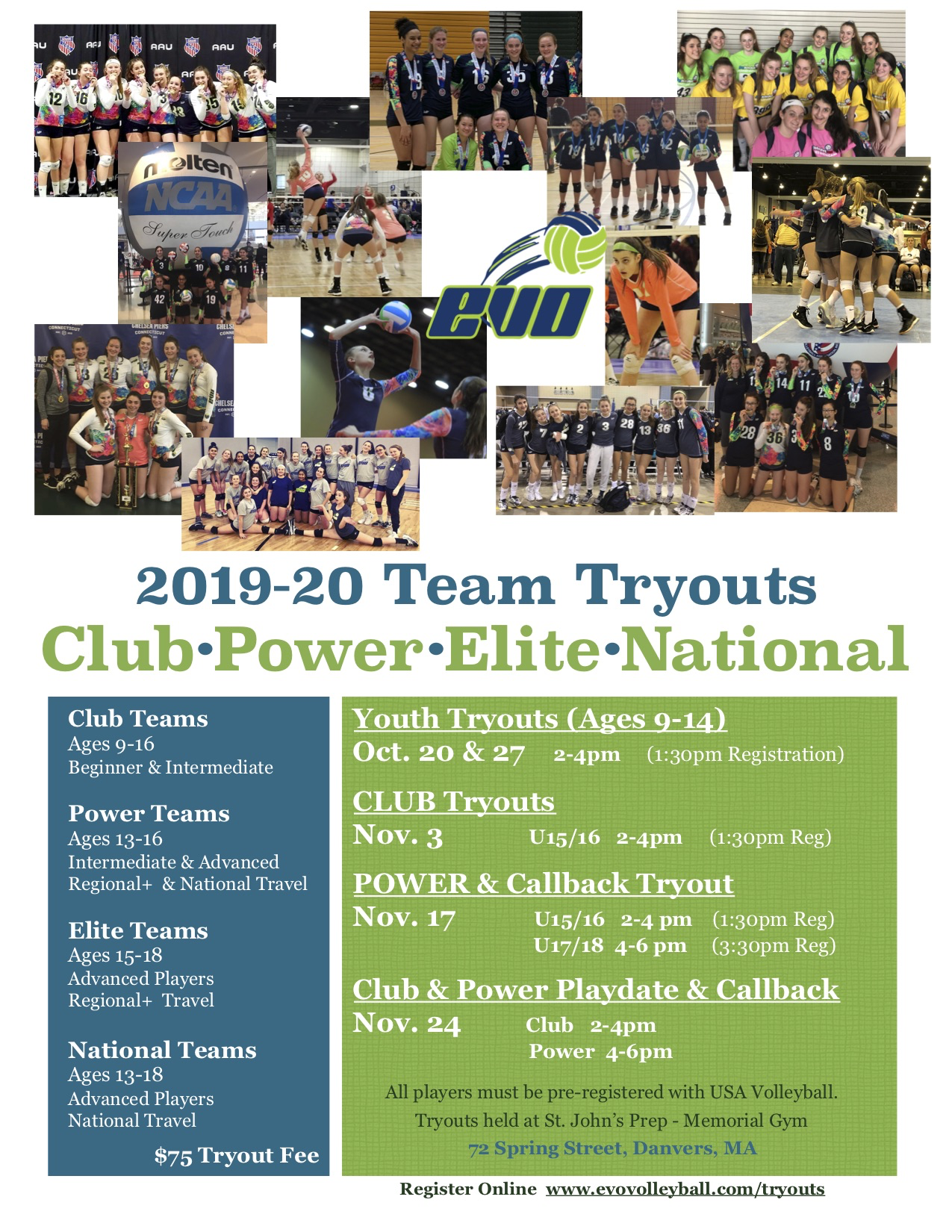 2-4pm   St. John's Prep Memorial Gym
1:30 Registration
72 Spring St. Danvers, MA
Sunday Nov. 3   Club/Elite Tryout (U15/U16)
2-4pm   St. John's Prep Memorial Gym
1:30 Registration
72 Spring St. Danvers, MA
Sunday, Nov 10 TENTATIVE MAKEUP DATE TBA
Sunday Nov. 17    Power Tryout/Elite Callback (U15-U18)
2-4pm     U15/U16    1:30 Registration
4-6pm     U17/U18    3:30 Registration
St. John's Prep Memorial Gym, 72 Spring St. Danvers, MA
Sunday Nov. 24    EVO Playdate/Callback
2-4pm     Club/Elite Teams
4-6pm     Power/National Teams
St. John's Prep Memorial Gym, 72 Spring St. Danvers, MA
All players MUST have a valid USA Volleyball Membership and a signed USAV Medical Form to participate in tryouts! No exceptions.
NEW USAV Membership Click HERE
RENEWAL USAV Membership Click HERE
Club Designation: We understand many people tryout for multiple clubs. If you KNOW you want to play for Team Evolution, choose that from the list of dropdown names in registration. Otherwise, skip the step and you can select the appropriate club once your daughter has made a team and made her club choice.
New to the area? TRANSFER your membership from another region HERE
*Please refer to the chart below to be SURE you register your daughter for the correct age level